It's a city whose iconic stone walls have witnessed and withstood various wars and conflicts throughout the centuries. No conflict, however, led to devastation like what happened after France's envolvement in the Second World War.  Despite been almost completely destroyed during the liberation of France, Saint-Malo has managed to hold on to its historic charm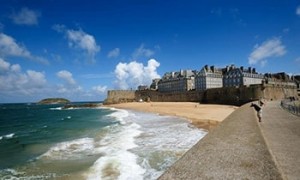 When one thinks of Saint Malo, it is often the grand walls which spring to mind. These are the walls that have witnessed, lived through, and rebuilt themselves after the horrors of the Second World War. In late 1944 during the liberation of France, American bombs as well as British naval gunfire attacked the city for 10 days straight. These horrific bombings tore apart the city, destroying 80% of the buildings of the Intra-Muros.
Although the bombs didn't leave much behind, nothing stopped the people from rebuilding their beloved city. There was a huge effort between 1948 and 1960, which saw Saint-Malo being almost entirely replicated just as it was before the war. Nowadays, stepping between the walls of Saint-Malo truly feels like taking a step back in time.