With the blustery winds and frosty winter mornings, I find myself evermore longing for the summer to come back around. Luckily for me, spring is just around the corner and as the days are getting longer and brighter, I can't help but think back to my summer in Saint Malo. In this blog post, I'm going to share with you some of my favourite memories from my time in Saint Malo, which I collected whilst working at Le Surcouf hotel.
La plage « le Sillon (The Sillon beach)
Voted the most beautiful French beach in 2018, the never-ending sands of the Sillon made a long lasting impression. During the day, with the sun shining upon my face and a cool breeze glazing across the wet sand, I used to enjoy taking long walks along the beach from my hostel right into town. As the beach was no more than three minutes from both my hostel and the hotel, I was lucky enough to be able to fit in a bit of sunbathing and a swim in my breaks from work. Some days, when it was a little chillier than usual, I was still able to take advantage of the beach by jogging alongside the sea. On days where there was too much wind for a swim, I used to enjoy watching the colourful array of kite and wind surfers – something truly unique which comes from the size of the Sillon.
14th July
This summer I experienced and celebrated Bastille Day, the French national holiday, for the first time. What an experience Saint Malo had to offer! Whilst waiting for it to get dark, I went to my beloved Sillon beach with my hostel friends and a giant pic-nic in hand. Well-fed and with a bit of wine in the system, we observed a glorious sunset together before heading into the old town to watch the fireworks. Albeit a tad dangerous, I managed to nab a brilliant spot standing on the city walls. I've never seen such a luminous display, and the melange of French and Breton music was the cherry on top. The festivities came to close with an open air concert just outside the ramparts, where a fantastic band played a medley of music from all over the word – there was a bit of salsa, the twist, and of course some Piaf too.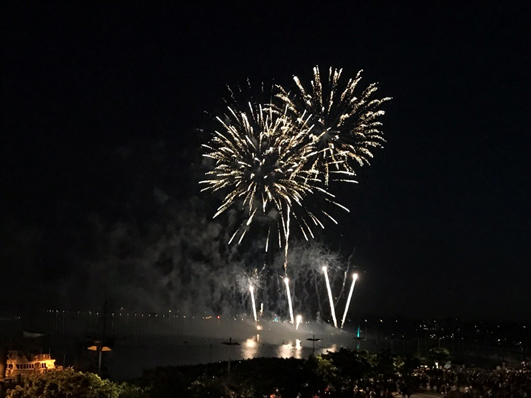 La fête de la musique (national music festival)
The fête de la musique is a national celebration of music that takes place all over France on the 21st June every year, whereby local councils fund numerous concerts throughout thousands of towns and cities across France. Yet nothing could compare to what I experienced in Saint Malo. Spread across seven stages throughout the walled city between 5pm and midnight, the streets of Saint Malo were surrounded by beautiful music from a plethora of genres. Upon approaching the city centre with my friends, we were greeted by the rock stylings of Jim Bauer, however three minutes later once we had walked through the city gates, we found a second stage in front of the hôtel de ville, where a young indie folk band called Telegraph was playing. Nonetheless, what impressed me the most and well and truly highlighted the fact that I was nowhere else but the naval city of Saint Malo itself was the choirs belting out their sea chanties in the heart of the town. Only in Saint Malo would one find pop, hip hop, rock, sea chanties and Celtic music all in one!
And there you have it! Now you can envisage for yourself some of the highlights of a wonderful summer spent in my favourite part of France. I hope that in reading my wee anecdotes you will be inspired to make the journey and see this wonderful city for yourself!